My Team
When you became my client, you placed your trust in me to help make your vision a reality. I honor that trust with the help of my expert support staff. Together, we make a strong commitment to customer service.
If at any time you have a question, concern or need, please let us know.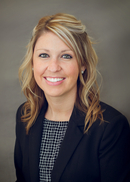 Laura Slomsky, MBA
Director of Marketing
Office 330-492-9700

Laura joined Northwestern Mutual in June 2008.  She is fully licensed in life and health insurance in the state of Ohio.  Laura is responsible for the agency's overall communications strategy and brand management, and coaching the financial representatives on their individual business plans.  In addition, she specializes in helping my team with proactive outreach and marketing initiatives.
How can Laura help you?
Organization of charitable and community events
Manage corporate and association partnerships
Resources available through Northwestern Mutual 
Laura graduated from Walsh University in December 2009 with a degree in Marketing and Corporate Communications.  She lives in Jackson Township and enjoys spending time with family and friends, exercising, and baking.  Laura is currently pursing her MBA, is a member of the Belden Village Kiwanis club and volunteers at Akron Children's Hospital.